Appeal to Provide Food to Over 1000 Orphans and Street Children on World Food Day 2021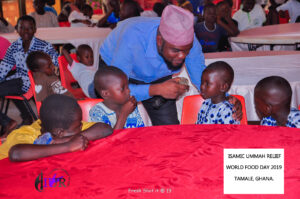 Help Feed 1000 Orphans
#WORLDFOODDAY #ZEROHUNGER
Food is one of the most important necessities of life and so on 16 october of every year, the world comes together to mark WorldFoodDay. This day is set aside to commemorate the date of the founding of the United Nations Food and Agriculture Organization.
Last year with the help of donors like you, we were able to feed about 500 Orphans. Alhamdulilah
This year, we would be in collaboration with
FAO(Food and Agriculture Organization) to tackle the fight against global hunger. This is an opportunity to create awareness on food waste and action most importantly for the 870 million undernourished people across the
planet. There is the need to also reaffirm our commitment to 'save good food, from going
bad'.
IUR's outreach this year, would serve food parcels and packages to orphanges, street children, widows and the less-priviledged. This is most needed especially with the hit of covid19.
Because we know you support this initiative, we believe it can be a reality. Let's do WorldFoodDay, let's help grow, nourish and sustain humanity!